Scandinavian Wedding Hairstyles That Will Take Your Breath Away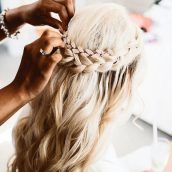 When it comes to wedding hairstyles, Scandinavia has some of the most beautiful and unique looks around. From classic buns to modern braids, there are plenty of ways to make your big day even more special with a Scandinavian-inspired hairstyle. So whether you're looking for something simple and elegant or something a little more intricate, we've covered you with these stunning Scandinavian wedding hairstyles.
Fresh and romantic Scandinavian wedding hairstyles
Scandinavian wedding hairstyles embrace natural beauty, simple lines, and unstructured shapes. So whether you're a minimalist bride or want to channel the rustic simplicity of Swedish countryside weddings, there are plenty of chic options for your big day look.
Consider an elegant half-up style with soft face-framing tendrils that perfectly compliment a classic bridal gown or an A-line dress. To add a modern touch, try sweeping all your hair up into a deconstructed bun or chignon at the back of your head. Then, enhance this look by accenting it with flowers or feathers and accessorizing it with delicate chains around the forehead.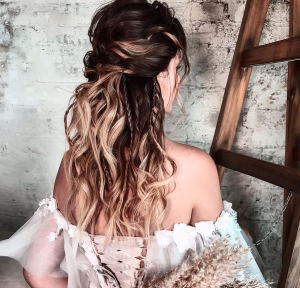 Braids are also popular among Scandinavian brides who want to add some texture and volume to their wedding hairstyle. Opt for a loose, low braid cascading over your shoulder or weave a more complex French-style plait across your head. To make the style even softer and more ethereal, incorporate elements such as beaded ribbons, pearls, feathers or flowers into the design.
Finally, no Scandinavian wedding look would be complete without romantic hair accessories like combs with pearls or crystals encrusted along the edges. Or add an extra glamour to an updo with a sparkling hair comb adorned with Swarovski crystals. These feminine touches have become staples in modern Nordic bridal looks and will easily elevate any hairstyle.
Whether you're inspired by the simple beauty of Swedish weddings or want to draw on the romanticism of Norwegian countryside style, there are plenty of fresh and romantic Scandinavian wedding hairstyles perfect for your big day look. With a few subtle tweaks, these timeless styles are sure to make your wedding look truly special.
Guide to getting the perfect Scandinavian wedding hairstyle
Creating your perfect timeless Scandinavian wedding style begins with the right hair type. Remember that this look needs to be maintained throughout your special day, so start by finding a hairstyle that works best for you and use products to keep it in place.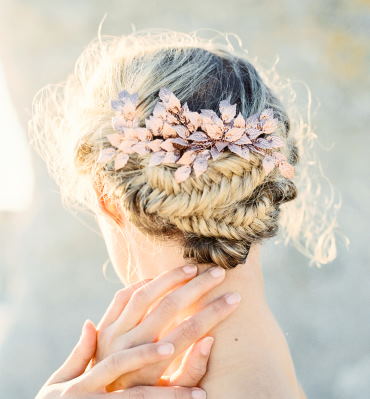 One classic Scandinavian look is the braided updo. This look can be achieved by creating several small braids around your head, then pulling them together into a bun at the nape of your neck. The key is to ensure all the braids are tight and secure, so they don't go undone during dancing or other activities. If you want an even simpler version of this style, create two larger braids at each side and pull them up into a bun.
Another popular hairstyle for Scandinavian brides is the romantic chignon. This look includes leaving some hair down but pulling the majority of it back into a low, twisted bun at the nape of your neck. To add extra volume and texture to this style, use an iron to curl pieces of hair around the face before pinning them back with bobby pins.
Try creating a sleek ponytail or half-up/half-down style with loose curls for an even more stylish take on the classic Scandinavian wedding look. First, pull your hair up into a high ponytail, separate it into two sections and curl each section separately with a curling iron. Finish off by lightly spraying some hairspray to keep everything in place.
Finally, the perfect Scandinavian bride needs a few finishing touches, like jewelry and flowers. Use delicate pearl or crystal hairpins or barrettes to pull back any face-framing hair pieces, then add some fresh blooms for an extra romantic touch.
With these tips, you'll be ready for your special day with the perfect Scandinavian wedding hairstyle!